Curry Roasted Chicken Thigh
I love chicken thighs, but hated them growing up. I think I thought they were too fatty and slimy, and I guess I fell victim to the food shows and magazines telling me how great and healthy chicken breast was. Well, after about 20 years of white meat, I've fallen to the dark side.
I remember having one of these prepared for me at a restaurant and me thinking, "Man! How do you get the chicken so tender?" I've tried a ton of methods on chicken breast from brining to slow cooking, but it always tastes bland and I think it's just the nature of the breast meat to be less tender than it's fattier counterparts.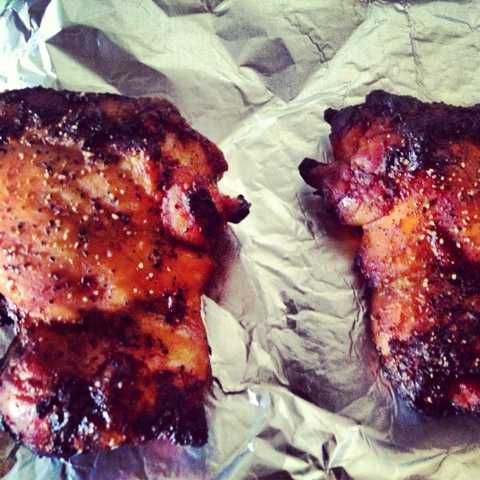 Anyways, when I make this recipe, I make a ton. Whatever I won't end up eating for the next several days, I put into the freezer - chicken, marinade and all. It's super easy - 400 degrees for about 45 minutes, and anyway you do it, the chicken comes out tender. You really can't mess this up.
Ingredients (serves 4 people)
4 chicken thighs (bone-in)
2 tablespoons curry powder
1 tablespoon garlic (minced)
2 tablespoons honey
1-2 teaspoons salt
2 tablespoons olive oil
Directions 1. Rub thighs with garlic and salt. 2. Place into plastic ziplock bag. Add oil to coat and then the rest of the ingredients. 3. Massage chicken. 4. Put on sheet pan and roast at 400 degrees Fahrenheit for 40-45 minutes.